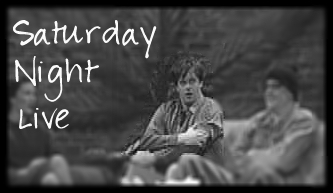 Jim Breuer was a cast member of Saturday Night Live from 1995-1998. He was fired on August 13, to hear more on this go to News. I would have to say Jim's most popular character was GoatBoy (hey, I named this page after him). GoatBoy is a man/goat that was created in a lab at The University of Chicago. Goatboy had his own show on MTV (not really on MTV) called "Hey, Remember the 80's!".
GoatBoy also had a brother (played by David Duchovny) who GoatBoy was reunited with on Oprah. Jim said that he created this character by going to zoos with his friends. Another popular Jim Breuer SNL charcater was Joe Pesci, he had his own show called "The Joe Pesci Show".
Som of the other hilarious Jim Breuer characters were Gunner Olsen, the rock star appearing on Weekend Update, and Jeffery Calfman, host of Issues, the show dedicated to the leagalization of marijuana. He also had small roles in the sketches Goth Talk, and the Spartan Cheerleaders. I will miss these characters, especially GoatBoy, who got me started on my love for Jim Breuer.
GoatBoy
To See more Jim/SNL pictures go to SNL Pics
---
Jim Breuer Appearences on SNL

Here's a guide to Jim on SNL, I don't have all the appearences but 
I have all the big ones. Actually I have found a website that is so much more
unbelievably accurate with Jim's SNL appearences, it's at the SNL Archives, click here to see it!

Here's how to read this:
HOST:AIR DATE:CHARACTER and/or APPEARENCE

David Schwimmer:Oct 95:re-enacts the time he beat up himself in a bar Laura Leighton:Nov 95:office worker Tommy punishes himself for maing mistakes Anthony Edwards:Dec 95:The Joe Pesci Show Christopher Walken:Jan 96:Personifies realtionship between stomach and alchoholic beverages Alec Baldwin: 96:The Joe Pesci Show John Goodman:Mar 96:Joe Pesci Show Steve Forbes:Apr 96:motorist is lectured by a bug that he hit Christine Baranski:May 96:Goatboy album faeturing popular 80's songs Jim Carrey:May 96:The Joe Pesci Show Tom Hanks:Jan 97:Goatboy Dana Carvey:Oct 96:Goatboy Phil Hartman:Nov 96:Goatboy Rosie O'Donnell:Dec 96:Goatboy sings x-mas carols Kevin Spacey:Jan 97:the Joe Pesci Show David Alan Grier:Jan 97:ex-porn stars Don Wong and Reggie Owens try a fast food career Chevy Chase:Feb 97:Charlie Rose, Goatboy and Cowman discuss legal system Sting:Mar 97:dislikes white power gossip of fellow Klan members Rolf and Sting Rob Lowe:Apr 97:The Joe Pesci Show, guest real Joe Pesci and Robert DeNiro Pamela Lee:Apr 96:Goatboy Sylvester Stallone:Sep 97:Mickey advises Sly Stallone "less Cop Land, more Rocky" Matthew Perry:Oct 97:Goatboy sings with Willie Nelson and Julio Inlesias Brendan Fraiser:Oct 97:Issues Chris Farley:Oct 97:plays Glen on Goth Talk Rudolph Giuliani:Nov 97:The Joe Pesci Show John Goodman:Feb 98:Emeril Legasse Roma Downy:Feb 98:Ross Rebagliate Garth Brooks:Feb 98:Goatboy Scott Wolf:Mar 98:Gunner Olsen, Issues, audience member Julianne Moore:Mar 98:Matt Damon Steve Buscemi:Apr 98:host of "Stuff We Made" Greg Kinnear:Apr 98:Gunner Olsen Matthew Broderick:May 98:does Godzilla sound affects David Duchovny:May 98:Goatboy on Oprah

Thanks to Saturday Net for this information.