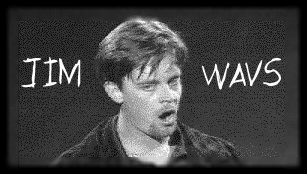 Special Thanks to UnionJax18
for providing some of these wavs.

To see or hear clips of Jim on the Opie and Anthony Show, Visit foundrymusic.com and search for "Jim Breuer"

|Pulp Comics|Half Baked|Saturday Night Live|Jim Breuer Show|

Pulp Comics

"...we need balloons for the party man!..."

"...Mwahahaha see you down the road!"

"...here I am driving like 80 miles an hour antagonizing the boogie man..."

"..I'll take my ass where its appreciated!"

"...My eyes would be shut if I was stoned."

Drinking Party in your stomach
^Top^
Half Baked
If you want more Half Baked wavs go to MovieWavs-Half Baked. I didn't have enough space to put all the Brian/Jim Breuer ones on my page so go there for all you needs.
Saturday Night Live
Ross Rebagliati: "Oh, I was bummed out man, ya know? But I think I reacted like any true compititor, ya know? Competitor, I said compititor man. I said compititor."
Ross Rebagliati:"Wow! Now who is this guy man?" -- Ross, it's you. Now tell us in your own words what's going through your mind as you watch this. -- "Uh, I wish this interview was over so I could get some Doritos man!"
Ross Rebagliati:"Hello? Hey! I'm in big trouble cuz o' you man! Yeah right - nooo, now is not a good time."
Ross Rebagliati:They took away your gold medal star. -- "Yo man, didn't you hear? They gave it back to me but I lost it!"
Ross Rebagliate:"uh, I wish this interview was over so I can get some Doritos man"
Ross Rebagliate:"as I'm rounding the third obstacle I'm thinkin' Hey I could really use some Doritos man!"
Issues:"There'll be a cake walk and a bake sale"-"bake sale I'll be there"
Joe Pesci:"Hey everyone! I'm Joe Pesci!"
Goatboy:from Dana Carvey episode
Jim and Tracy Morgan imitating Godzilla
Joe Pesci Show/Jim Carrey Episode: Pesci:"your an american icon and I'm some ethnic moron? Is that what's going on?" Stewart:"that about sums it up you midget monster greaseball"
Janet Reno: "Goatboy likes to get freaky in the sack"
The Jim Breuer Show on MTV
Story about the trouble with pool hopping when he was young
Taffy Man on the misconceptions of Taffy
Singing "Dont worry, eat taffy"
Playing stickball, and the dog next door
Missy King going on about Carson and her boyfriend, Jersey Suavee
Missy King:"you know what? I'm gonna go back and model. I'm a model! Forget the TV cuz I'm gonna be going back to being a model"